Since WordPress is basically a blogging platform, not everyone wants to use a classified theme or plugin to build an advertisement directory website. In that case, here is the list of the best PHP classified scripts. In this list you can find free as well as paid software.
If you know others please comment below in order to add them to this list.
Jun 17, 2014 - osclass.org -

619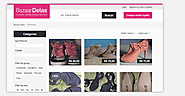 Osclass is one of the most popular free classified scripts which provides premium features and design.
It is super easy to install and use and we can choose from many templates.
It also comes with many plugins which help to extend the functions of the website.
Jun 17, 2014 - flynax.com -

580
Flynax is a premium classified ads script which is very flexible so you can create any sorts of niche classified ads website with it.
It is open source and comes with many free plugins which help you to extend the functions. It is also included with several templates which makes website building even easier.
Another important thing is that this script is SEO friendly, so you can get more free targeted visitors from search engines.
The entire interface has been developed to make the website as user friendly as possible. The ads posting can be done step by step, the advertisement management is also easy and the site can be navigated simply.
Jun 17, 2014 - almondsoft.com -

504
Almond classified ads script is another free solution. This is the ultimate Craigslist clone with almost the same look, features and functions.
There is a free and paid version of Almond. There are also a Facebook application and Joomla extension.
It comes with tons of features which make advertisement and user management easy, help to optimize the site for search engines and protect the site from spam.
It also supports AJAX, there are many features for customizations and to make money.
Jun 17, 2014 - abscripts.com -

595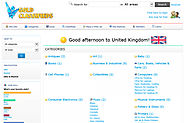 A premium script which well-rated on Hotscripts.com. It is an out of the box solution if you want to build a classified ads directory.
Some of the features and benefits include:
- unlimited number of categories in unlimited number of levels,
- unlimited number of areas (countries, cities) in unlimited number of levels,
- unlimited number of classified ads,
- users registration,
- the possibility to upload images and any other kind of files (optional),
- basic ads listing is free,
- users pay for extra features (extra images, files, highlighting, home page placement etc., these options may bring you an interesting income),
- real time statistic for each classified ad,
- the design of all pages is fully editable,
- included poll and message board.
Jun 17, 2014 - codecanyon.net -

632
Classified made easy is one of the top rated PHP classified script which can be used as map based classified or any kind of listing website. You can easily add,edit or delete categories.
For example, if you just want to use it as job listing website then you may create just job categories and related subcategories.
Best Features
- HTML5 Responsive design and 10+ bootstrap themes included.
- GeoIP option
- Classified listings on Google Maps
- Supports thousands of markers without performance issue
- Admin Review before listings go live
- Multilingual
- Adsense Ready
- PayPal integrated for featured ads
- SEO Support inbuilt
- Facebook connect
and many more.
Jun 17, 2014 - codecanyon.net -

651
This is one of the best rated classified script on Codecanyon which is rated 4. It is an all in one CMS for listing websites.
It has tons of useful features for admin and users and it comes with an attractive design.
Some Frontend Features
Easy advertise posting
Product search, with voice search
Six color theme in front end
20+ language support
Layer slider included
Responsive design
Six color variation for all UI items
All the products are smartly categorised
Easy sign in and sign up facility for users
Users can post their advertise with full description and multiple pictures
Smart user profile including their information and posted advertises
Jun 17, 2014 - codecanyon.net -

670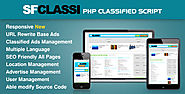 This is responsive PHP classified script that is rated 3.5 on Codecanyon.
It has a simple design which makes the site navigation very user-friendly.
Key Features
FRONT END
Post Free and paid Classified ads
Classified ads search by Category
Classified ads list by Category
Featured Classified ads list by Category
Featured Classified ads
Unregister or Register user post ads
User my account section
User can contact thru phone or email
SEO Friendly
Multiple Language
BACK END
Classified Ads Management
User Management
Categories Management
Location Management
Paypal Payment Setting
User control from setting
Jun 17, 2014 - codecanyon.net -

608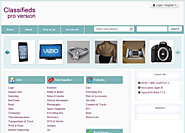 This classifieds script software will allow you to create own classified ads website in a few clicks.
It is 4-star rated software which comes with a really simple layout. The price is pretty affordable, only 20 bucks.
Admin features:
Simple installation
Easy to manage ads with admin panel
Easy to manage users with admin panel
Delete and edit ads and users
Create new page
Set banners
Set paypal e-mail addres
Set featured ad price
Add category
Add subcategory
Jun 17, 2014 - codecanyon.net -

529
Classified Maps is a little CMS based on Codeigniter to create shortly an ads website.
You can choose your country map, switch between vector map and google map, post ads, manage ads, manage categories easily, add CMS pages...
Jun 17, 2014 - codecanyon.net -

442
ApPHP Business Directory Advanced version is a simple, but powerful Business Directory solution.
This script allows to add categories, then associate added businesses to these categories.
You may also add business profiles including basic business contact info, business description, website link, e-mail contact, categories, map links etc.
Features
Manage Customers and Customers Groups
Manage Listings, Categories
Language and Words Manager
Advertise Plans
Payment Statistics
Configure 30+ Settings
RSS News Feed
Embedded CSS Templates
Multi-Browser support
Multi-Language support (including RTL languages)
Database Backup Manager
Payments module
News module
Inquiry module (Pro version)
Ratings module (Pro version)
Gallery module
ContactUs module
Comments module
Gallery module
Banners module
FAQ module
AdSense module
Backup module
Email Templates management
Jun 17, 2014 - open-classifieds.com -

624
Start Your Classifieds Online Business! Open Classifieds is 100% free to use and the source code is ready for any modification. No technology knowledge needed.
Key Features
- Social login
- Custom fields
- Mobile friendly
- Ways to make money
- FAQ and blog section
- Paypal integration